As we embark on a new calendar year, we are inspired on the reflection of all that we accomplished together at RE/MAX Partners Realty in 2018. Reviewing the below shows the great dedication of our customers and hard work from our agents and staff.
We started the year at the annual RE/MAX R4 International Convention in Las Vegas – the largest real estate convention in the world – where our staff had the opportunity to continue their education across various topics facing the industry. We plan to attend the four-day event again this year for more educational sessions and growth opportunities.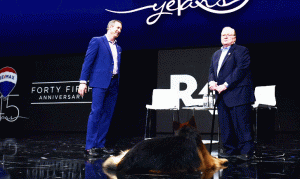 At RE/MAX Partners Realty, our agents have multiple accreditations. Alyssa Beaderstadt is an Accredited Commercial Professional(ACP) and Strategic Planning Specialist, Cheri Garcia is a Sales Representative Specialist (SRS), and Matt Karjalahti is an Accredited Commercial Professional (ACP) and Certified Negotiation Expert (CNE). In addition, Alyssa and Matt are the only ACPs in Central Iowa between Des Moines and Iowa City. In 2019, we plan to grow our agent repertoire and accreditations even more – stay tuned for more to come!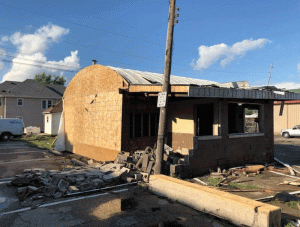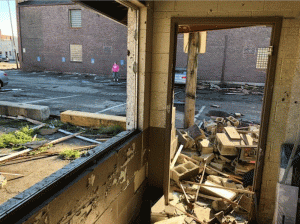 We made an exciting new advancement and purchased an old building in severe disrepair in Marshalltown. We began renovations in April and were just a couple of weeks away from being able to open the doors to the public in July. As the community experienced the devastating effects of an EF-3 tornado in July, our new office was completely destroyed. Fortunately, we were able to identify a new space located at 13 East Southridge (Suite D), Marshalltown, IA and recently opened doors. Give us a call at 641-519-0200 or stop in to see us!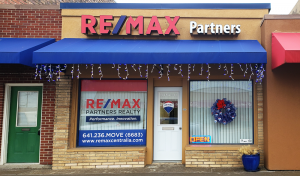 For the first time in 44 years, the RE/MAX brand has been updated to be brighter, more modern and more appealing to today's real estate buyers and sellers. Updating our office and listing signs, billboards, marketing materials and the vast amount of places we are marketed online has been quite the endeavor of time and money. Our team's commitment to stay on top of this – all while maintaining our clients' needs – has been nothing short of amazing.
Within the walls of our offices and behind the scenes of our representation, we strive to identify and utilize technology that helps us stay efficient for our clients. In 2018, we purchased 3D Camera equipment to use for both residential and commercial listings for buyers to interact within our marketing for all of our listings. We also transitioned to a new interactive phone system and completed a full office upgrade for professional in-house printing.
We hired a digital development expert and graphic designer, Jess Dawson. Jess helped us evolve the new branding by developing a new state-of-the-art website featuring Central Iowa's most complete database of listings. The site is also multi-lingual, offering the largest local search resource for non-English buyers. We continue to add more resources to the site for our clients to utilize and stay up-to-date, offering streamlined user experiences on both desktop and mobile platforms. In 2019, Jess plans to obtain her real estate license to even further service our clients.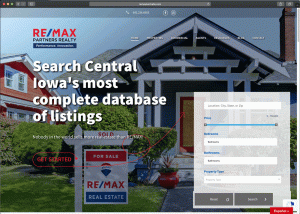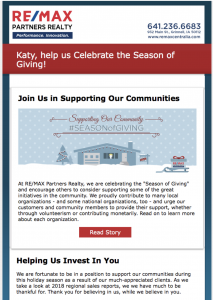 We continued our partnership with Double You Marketing, Inc., evolving our efforts that started more than two years ago with branding RE/MAX Partners Realty, better understanding our target audiences and planning communications strategically. Their recent support has allowed us to expand our marketing presence to better communicate with current and prospective customers with assistance on website content production, social media, email newsletters and various ad placements. To sign up for our newsletter, click here  and be sure to follow us on Facebook and Instagram.
We are fortunate to be in a position to support our communities throughout the year. Our community involvement in 2018 spanned from Independence Day parades to high school football team sponsorships. We also contributed to a variety of charities and organizations as an investment back to our communities that do so much for us.
As we close one year and move into a new trip around the sun, we first and foremost thank our clients. Our growth and development is based on the services you asked from us. We are here for you and because of you. 2018's success in helping you has brought many successes, big and small, including:
#1 Selling Office in Poweshiek County
#1 Selling Agent in Poweshiek County
#2 Selling Office & Agent in Brooklyn and Holiday Lake
*According to MIRBOR MLS ranking reports 1/1/18-12/31/18 for all properties sold in Poweshiek county, and all properties sold in 52211.
Thank you for believing in us while we believe in you. We will continue to grow and innovate day in and day out to bring you an unmatched product in real estate.
If you are interested in speaking with one of our agents, visit our Contact page or call us at 641-236-6683.
Interested in joining our team? At RE/MAX Partners Realty, we foster an environment of growth and work together to ensure you succeed. With educational development opportunities and an office synergy that promotes collaboration, it's no wonder why our agents are so highly ranked in production. We are always looking for the right person with a commitment to service and representation whether as an agent, graphics expert, compliance specialist or other position. See if you might be a good fit by emailing us at info@jessicadd.realtyna.info or call us at 641-236-6683.
Connect With Us
Our agents offer the most comprehensive service for buyers and sellers.
Contact us today!